Want to live in a greener community?
Support Green Municipal Aggregation (GMA), also known as community choice electricity aggregation, in your town to green up the electricity for all residents.
What is GMA?
Since 1997, Massachusetts state law allows a city or town to choose the electricity supplier for residents and businesses within that municipality. This is called GMA or community choice aggregation. It's a model that allows for important energy decisions to be made at the local level rather than by an investor-owned utility or by a for-profit competitive electricity supplier. The oldest and largest example of GMA in Massachusetts is the Cape Light Compact, which buys electricity and runs energy efficiency programs for all the towns on Cape Cod plus Martha's Vineyard. 
How can GMA be green?
A community can take the opportunity offered by GMA to increase the renewable energy content of their electricity supply above and beyond what is required by Massachusetts state law. According to the Massachusetts Renewable Portfolio Standard (RPS), 11% of our energy is supposed to come from qualifying "Class I renewables" in 2016, plus another 1% per year after that. By 2020 we will reach 15%, 20% in 2025, 25% in 2030, and by 2050 utilities will be required to generate approximately 45% of their energy through renewable resources.  Sounds great, but it's too slow to meet the challenge we face from climate change.
With GMA, a community can bundle Mass Energy's MA Class I RECS into their city's new aggregation electricity supply to provide five percent (5%) more green power than required by the state's RPS. That means a community can jump 5 years ahead of state law, sending a message to policymakers that the state's RPS is too slow.
Why Just 5%
Buying RECs from Class I renewable energy generators gives developers revenue needed in order to ensure project financing. By helping the project get built, this type of power purchase actually shifts our power grid away from fossil fuels. However, Class I RECs are more expensive than non-Class I RECs, which do not have the same impact on the power grid.
Five percent is the magic number: it supports more renewable energy on our power grid while keeping the new aggregated supply rate competitive with what the electric utility is offering.
Case Studies: The City of Melrose and Town of Dedham
The city of Melrose and the town of Dedham have taken a leadership position on this model and are currently running a GMA program for their residents.
Their process:
They hired Good Energy, a GMA consultant.
The mayor and city council approved a GMA plan that Good Energy helped each city write.
The Mass. Department of Energy Resources, the Attorney General's office, and the Department of Public Utilities approved the plans.
They each put out a request for proposals in order to find an electricity supplier. Melrose chose Constellation New Energy. Dedham chose ConEd Solutions.
Both GMAs launched in January 2016.
Residents' Choices: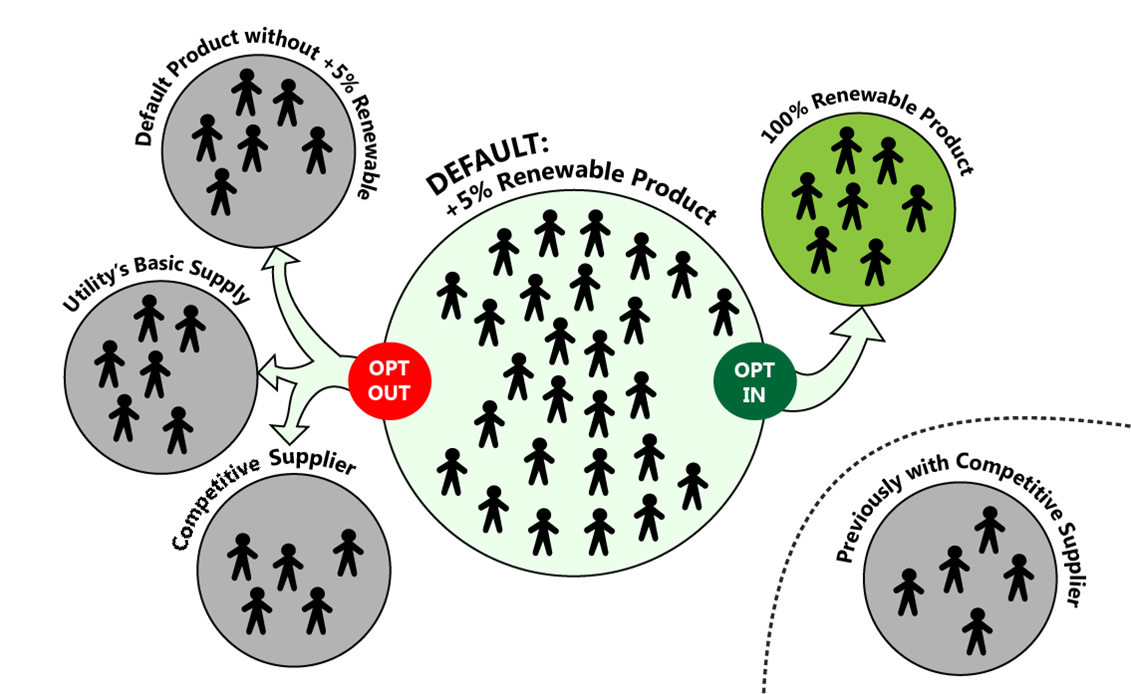 Residents are able to opt out of the new default GMA electricity supply into 1 of 3 options: the new default supply option minus the +5% renewable, the utility's basic supply (default for non-aggregated towns), or a competitive supplier's product. They can also opt into a 100% Class I renewable energy supply! People who were already with a competitive supplier are not included in the aggregation. They must cancel their service with the competitive supplier to opt into the new aggregated supply.
As you can see, GMA allowed Melrose and Dedham to take hold of their resident's energy supply and provide their residents with more options than other towns in Massachusetts.
Which Communities are Participating?
Arlington: Program Launched in Aug 2017 with Good Energy.
Bedford: Researching and writing plan with Good Energy.
Brookline: Program Launched in Jul 2017 with Good Energy.
Dedham: Program Launched in Jan 2016 with Good Energy.
Melrose: Program ran from January 2016 to July 2017 with Good Energy. Update here.
Metropolitan Area Planning Council (MAPC) group procurement: Good Energy was the winner of a competitive procurement organized by MAPC on behalf of 101 cities and towns in eastern Massachusetts. These communities are not obligated to select Good Energy as their consultant, but the bidding process has been done for them and they can now easily begin the process of following in the footsteps of Melrose and Dedham. We expect that quite a few will be starting aggregations by 2017.
Gloucester: Program approved by DPU in Jan 2017.
Hamilton: Researching and writing aggregation plan with Good Energy.
Somerville: Program Launched in Jul 2017 with Good Energy.
Stoneham: Researching and writing aggregation plan with Good Energy.
Sudbury: Program Launched in Aug 2017 with Good Energy.
Winchester: Program Launched in Jul 2017 with Good Energy.
Woburn: Researching and writing aggregation plan with Good Energy.
How Do I Get My Community Involved?
If you're interested in learning more about GMA or want to find out how your town or city can get started, contact Eugenia Gibbons at eugenia@massenergy.org or give us a call at 800-287-3950 x5.
Helpful links:
GMA 101 webinars
Sample Aggregation Documents