Get to know electric vehicles better.
The more you know, the more you'll want one!
Car Shopping & EV Basics
More useful links
About EVs:
Green Car Reports: hybrid and EV news and reviews
Car & Driver: editors choice for best EVs and hybrids
About Car Shopping:
Range & Charging
The Battery & Range
EV battery size is measured in kilowatt-hours (kWh). The more kWh capacity your car's battery has, the farther you can go between charges.This determines your car's range.
The Onboard Charger
Your car will have an onboard charger. Its capacity, measured in kilowatts (kW), affects your charging speed. The more kW, the faster the charge!
Learn more about range & charging
Emissions & Climate Change
A vehicle running only on electricity has zero tail-pipe emissions. Even if you account for the emissions associated with producing the electricity to charge them, electric vehicles charged with electricity in New England produce far fewer greenhouse gas emissions than vehicles powered by internal combustion engines.
On top of that, our electric grid is getting greener with each passing year, thanks to laws like the Renewable Energy Portfolio Standard, which requires electricity suppliers to increase their renewable energy content each year. This means the environmental benefits of EV will increase each year.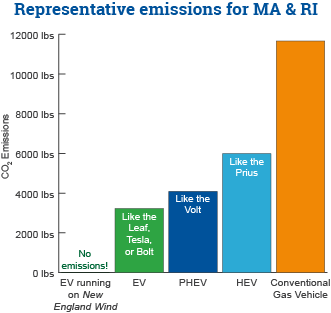 Energy and climate experts point out that transportation emissions are now greater than emissions from electricity.
Here are two blogs from two different authors on why it makes sense to move quickly to electric vehicles and high-efficiency, cold-climate heat pumps:
"It's Not Just Clean Air: Electric Cars Can Save the US Billions"
Article from Wired
Posted on Oct 27, 2016
"If, by 2050, all new car sales and about 65 percent of all cars on the road are electric, like the 2016 Nissan LEAF pictured here, health- and climate-related costs in the US could drop by $21 billion."
Read the article
"An App to Help Save Emissions (and Maybe Money) When Buying a Car"
Article from New York Times
Posted on Sep 27, 2016
Read the article
Pricing & Costs
It is cheaper to drive one mile in an EV than one mile powered by gas
given New England's electricity rates and current gas prices.
Calculate fuel savings and compare vehicles side by side at the Dept of Energy fuel economy page.
Popular models