What is Drive Green with Mass Energy?
Drive Green with Mass Energy is an electric vehicle buying group being offered by nonprofit Mass Energy Consumers Alliance and participating dealerships. Discounts on select electric vehicle models are offered. View the cars & deals.
Who qualifies for Drive Green with Mass Energy?
Anyone is  is welcome to take advantage of our discount and the applicable rebates. Only private individuals are eligible for the Massachusetts MOR-EV rebate. Businesses, fleets, and other entities are not eligible to apply for the MOR-EV rebate.
How do I participate?
You must apply here or by calling 800-287-3950 x5, and then work with the dealers you selected to make your purchase. Once you apply, the dealers will call you and it is up to you to follow up, ask questions, test drive, and secure the final price with the dealer when you buy.
Note: The discounts offered will change on a monthly basis.
Are there electric car tax credits or rebates that I can take advantage of?
Yes. Federal and state incentives can cut your costs by up to $10,000 on top of the impressive discounts offered through Drive Green with Mass Energy. The Volt, Bolt and Leaf all qualify for a federal income tax credit of up to $7,500. The Ford C-Max Energi and Ford Fusion Energi will be eligible for a tax credit of up to $4,007. The amount of credit is reduced because of a lower range on battery-power only. This tax credit is available to car purchasers only.
Both Massachusetts and Rhode Island offer rebates of $2,500 for the Volt, Bolt, and Leaf. They also offer rebates of $1,500 for the Ford C-Max Energi and Ford Fusion Energi. Again, the size of the rebate is tied to the range of the car on the electric battery. Rebates are available to purchasers and to those who lease.
Keep reading about these incentives and how to take advantage of them here.
What are the ranges of the vehicles offered?
Our program offers discounts on several different EVs. The cars and their ranges are outlined in this table.
Why is buying an EV better for the environment?
See EVs as a climate change solution on our resources page.
How do I charge my car with wind power?
Green up your home and car's electricity with Mass Energy by filling out this simple form, or by selecting the green electricity while applying for Drive Green with Mass Energy. Then, you can rest easy that the electricity you're charging your car and powering your home with comes from local renewable energy. Learn more.
How do I charge it?
See charging on our resource page.
How do these vehicles handle in the snow?
Very well due to a low center of gravity and excellent traction control.
What happens to mileage during the winter?
Mileage (miles per kWh) does go down during very cold weather when you run the heater and very warm weather when you run the AC. But the ranges listed for each make and model are pretty accurate on a year-round basis. You can learn more about driving an electric vehicle in winter from this article.
How will charging an electric vehicle affect my electricity bill?
It depends upon how much you drive. In general, your electricity will go up by less than your gasoline bill will go down.
What servicing do these vehicles need?
Each model will have a different maintenance schedule. Generally, they will occasionally need a tire rotation and battery inspection, brake fluid flush, and in cabin air filter replacement.If you drive a Volt, it will need an oil change about once every two years depending upon how often you use the gasoline engine. Overall, you can expect to cut your maintenance bill for your vehicle substantially!
Is it more expensive to insure an electric vehicle?
No, but you can check with your insurance agent to get further assurance.
What if I run out of power on the road?
This is highly unlikely because the cars come with an accurate range estimator. It will estimate how many more miles you have on the charge. The cars might also come with 3 years of free 24/7 roadside assistance. If necessary, you could get a tow to the nearest charging station. With the Bolt, the range is 238 miles. With the Volt, you also have the gas engine.
What are the emissions impacts of EVs when compared to conventional cars?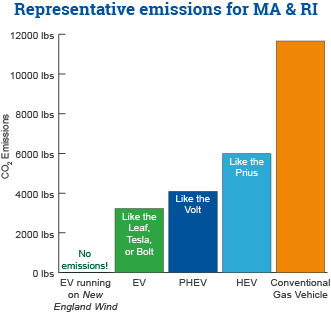 See more info on our resources page.
What is the difference between an EV, a PHEV, and an HEV?
There are three main types of vehicle commonly called "electric", and it's worth knowing the difference:
Battery-Electric Vehicles (BEVs) are all-electric vehicles and run only on electricity. With a BEV, you charge the car's battery with electricity. That battery then powers the electric motor, which propels the car forward. Since the car itself is not burning a fuel to generate movement, there are no tail-pipe emissions. Instead, the carbon footprint of a BEV depends on how the electricity that runs it is produced. The Nissan LEAF and Chevrolet Bolt are great examples of affordable BEVs.

Hybrid plug-ins (PHEVs) combine a battery-powered electric motor with an internal combustion engine. The idea here is that you charge your vehicle with electricity and use it much like an all-electric vehicle. However, if and when you run out of charge, the internal combustion engine serves as a back-up. While running only on electricity, a PHEV's carbon footprint again depends on the fuel mix that generated the electricity. As soon as the internal combustion engine switches on, the engine's tail-pipe emissions add to the vehicle's carbon footprint.  A great of a practical, extended-range PHEV is the 2017 Chevrolet Volt, which offers a range of 53 miles on one electric charge and 420 miles with a full charge and a full tank of gas.  Coming soon is the 2017 Toyota Prius Prime, which will get about 25 miles per charge on electricity before utilizing a gas engine to achieve a total range of 640 miles. 

Hybrid electric vehicles (HEVs) also combine an internal combustion engine and an electric propulsion system. HEVs are "charged" with gasoline; you cannot plug them in to charge them with electricity. However, HEVs are more efficient than traditional internal combustion engines because they take advantage of technologies such as regenerative braking. The most popular HEV is the Toyota Prius (other than the forthcoming Prius Prime). The Drive Green program does not include HEVs. We are concentrating our efforts on BEVs and PHEVs because the quality of plug-in vehicles has improved greatly and they offer terrific environmental benefits.
How did Mass Energy choose the vehicles and dealers that are in the program?
We decided to focus on cars that are affordable to the middle class and have good to excellent ranges. We sent out Requests for Proposals to several dealers. Those dealers that offered good prices and committed to providing good service to our referrals were chosen for this program. As time goes on, we may add or subtract certain vehicles and dealers from our program. Click here to learn more about the cars.
Does Drive Green with Mass Energy have an end date?
No, we will run the program indefinitely. 
Why shouldn't I wait for the Tesla instead?
Many people have heard about the cars being sold by Tesla. In our view, Tesla is a very important carmaker.  Until recently however, Tesla has been selling models that are exciting but more expensive than most people can afford. In July 2017, they began producing their Model 3 which will have a list price starting at $35,000. We consider that to be a car very worthy of consideration. However, Tesla apparently has a waiting list far larger than the number of cars they will be able to produce for some time. At some point, we hope to add the Model 3 to our program. Meanwhile, we encourage you to consider the Chevrolet Bolt which is of comparable price and range to the Model 3.
Why is Mass Energy hosting this EV buyer's group?
We are basing this program on the good work of others in Colorado and Utah. It is our mission to use consumer power to make energy more affordable and sustainable in order to avoid the potential devastating effects of climate change. Electric vehicles are a part of that solution.
We also see this as a natural extension of the "buyers' group" model we have operated for energy consumers since 1982.
Aknowlegments: Many thanks to Will Toor and Mike Salisbury from the Southwest Energy Efficiency Project, Tim Prior and Annie Freyschlag from the Electrification Coalition and Drive Electric Northern Colorado, and Kevin Emerson and Clayton Johnson of Utah Clean Energy for blazing the path on electric vehicle group buy programs and for sharing their knowledge and experience with us.  Thanks also to Gina Coplon-Newfield of the Sierra Club for her excellent advice.
Are there any legal disclaimers I should know about?
Yes. Read them HERE.